Tuesday, September 17th, 2013
---
12:11 pm
- new bab in town
Tuesday, April 2nd, 2013
---
11:26 pm
- art > studying
more art because I should be studying but I don't FEEL LIKE IT

mostly a random assortment of pokeyman and dangin rompa again. yup



(

Read more...Collapse

)
Saturday, January 12th, 2013
---
7:52 pm
- more pokemon fanart oh no
oh YES. today I have a small collection of drawings I did about 1-2 weeks ago.

I'm attempting backgrounds now (gasp) and constantly learning new things with photoshop because I only know like 1% of what its capable of. I mean it does so many things...like all of the things. How one even masters the photoshop I will never understand.



(

Read more...Collapse

)
Tuesday, January 8th, 2013
---
5:15 am
- pokemon x and y!!!
omfg.



WOW I ABSOLUTELY LOVE THE GRASS TYPE! THE FROG IS AWESOME TOO!!!



this thing looks pretty cool too

Its almost 7 am now and I still can't sleep. I tried but when I close my eyes I see STARTERS.
Thursday, May 17th, 2012
---
5:03 am
- fanart!
BW2 + SOME OTHERS



I like cheren's snazzy new look in bw2! AND I like that he is now a gym leader!! coooooool. Too bad I don't care much about normal types though. (stupid cheeks I know sorry, couldn't not do it)



(

2 moreCollapse

)



Wednesday, August 25th, 2010
---
8:08 pm
- About time I made this post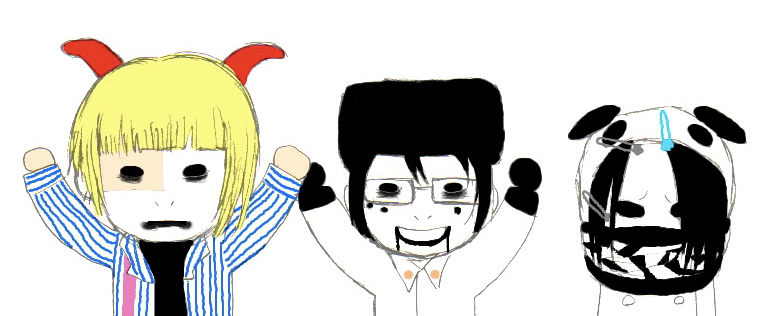 FRIENDS ONLY!!!
But that doesn't mean WE can't become friends! Just leave a flattering comment and I'll most likely add you!
Sunday, April 25th, 2010
---
3:32 am
- THIS IS CRAZY

CRAZY
AWESOME
current mood:
amused
Sunday, October 11th, 2009
---
3:23 pm
- LEAVE FEEDBACK HERE

IF YOU'VE BOUGHT SOMETHING FROM ME LEAVE FEEDBACK HERE PLEASE! :D

format

item bought:
rating: (1-5)
comment:


and ofcourse

thanks for buying from me

!!